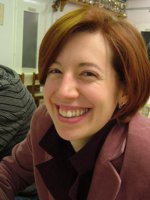 I am Assistant Professor in astrophysics at University of Ljubljana. My main research topic are galaxy clusters, whose properties I study by means of cosmological hydrodynamic simulations. I am also active in public outreach and science communication.
Contact information
Jadranska ulica 19
1000 Ljubljana – Slovenija
office 214
tel.: (+386) 1 4766 524
dunja.fabjan (at) fmf.uni-lj.si
More information on my personal web page.
Education
2004 – B.S. in Physics and physical technology, University of Trieste, Italy
Il fondo cosmico nelle microonde
2006 – M.S., Astrophysics and Space Physics, University of Trieste, Italy
Simulazioni idrodinamiche di ammassi di galassie: proprietà chimiche e termodinamiche
2010 – Ph.D. in Physics, University of Trieste, Italy
The effect of star formation and feedback on the X-ray properties of simulated galaxy clusters
2012 – Master in Science Communication, International School for Advanced Studies SISSA-ISAS, Trieste, Italy
La comunicazione istituzionale al tempo della Playstation: il cambiamento e i nuovi strumenti negli uffici stampa degli enti di ricerca italiani
Papers
Complete list of papers on NASA Astrophysics Data System and in the Slovenian database SICRIS.
Selected papers:
PLANELLES, Susana,

FABJAN, Dunja

, BORGANI, Stefano, MURANTE, Giuseppe, RASIA, Elena, et al. Pressure of the hot gas in simulations of galaxy clusters. Monthly notices of the Royal Astronomical Society, ISSN 1365-2966, 2017, vol. 467, issue 4, str. 3827-3847
PLANELLES, Susana,

FABJAN, Dunja

, et al. On the role of AGN feedback on the thermal and chemodynamicalproperties of the hot intracluster medium. Monthly notices of the royal astronomical society, ISSN 0035-8711, 2014, vol. 438, issue 1, str. 195-216

FABJAN, Dunja

, et al. X-ray mass proxies from hydrodynamic simulations of galaxy clusters – I. Monthly notices of the royal astronomical society, ISSN 0035-8711, 2011, vol. 416, issue 2, str. 801-816

FABJAN, Dunja

, et al. Simulating the effect of active galactic nuclei feedback on the metal enrichment of galaxy clusters. Monthly notices of the royal astronomical society, ISSN 0035-8711, 2010, vol. 401, issue 3, str. 1670-1690

FABJAN, Dunja

, et al. Evolution of the metal content of the intracluster medium with hydrodynamical simulations. Monthly notices of the royal astronomical society, ISSN 0035-8711, 2008, vol. 386, issue 3, str. 1265-1273
Public outreach and science communication
public talks and articles (complete list)
series of lectures Evenings at the astronomical observatory (public talk)
Open days and nights at the Astronomical observatory
Slovenian version of the Astronomical Picture of the Day (APOD) (occasional translations)
Slovenian Portal to the universe (contributor/writer/translator, ESOcast translation, social media managing)
national competitions in astronomy (collaboration)
International Olympiad in Astronomy and Astrophysics (comentoring of the Slovenian team, exercise preparation)